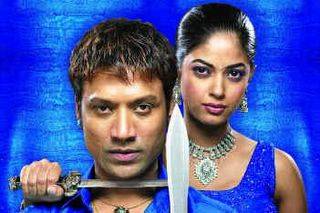 SJ Surya has got the reputation as a good screenplay writer, similar to the lines of K Bhagyaraj, whom he tries to emulate in double-meaning dialogues and some controversial scenes as well. He managed to overcome his shortcomings in his previous three movies, but in this one, he falls terribly short in almost all the fronts.
Story? Is revealed by Surya himself right at the beginning of the movie and in the trailer. One has to really wonder his wisdom, since he doesn't have a nice screenplay to back such a wafer-thin, really old story. Shiva (Surya) and Madhu (Nila) are lovers living together. Shiva is a journalist working hard to try and maintain a good living. When Madhu decides to run a restaurant with her friend's brother to ease the pressure off Shiva, he doesn't like it and thanks to a series of splats, they separate. The rest of the movie is on how their thoughts, clad in a blue costume, unite the lovers.
It's a big surprise how the two, who are as different as chalk and cheese (literally) can fall in love and even 'exist' together. The chemistry between them is awful and from the beginning, there is more repulsive force we feel than any attraction. The reason for the couples' separation is sooo silly and vulgar. The post-separation part also disappoints, with nothing 'new' in the proceedings.
We heard the dialogue from Prakash Raj in Anniyan "MGR pathirukkenn…..". It suits for Surya's performance in Ah Aah too, but in a totally opposite way. He overacts as all four of them, and many others too. He is unbearable at most scenes. His hairstyle is horrible. Nila just looks good in some scenes. All she has is some resemblance to Simran in some angles. Nothing more than a glamour doll. So many irritating characters sprinkled along the movie add to the agony. All of Surya's colleagues having something to influence his life, thoughts and provide some turning points is total lack of imagination.
Song picturizations have been a huge let down. This would be one movie AR Rehman would repent for having composed some good numbers. Camera work with 'blue' being the predominant color in the second half pains the eye at times. Choreography by Brinda is less than imaginative.
Surya would have probably thought that 'New' was his success story. He didn't realize that it was Simran's show. He cant afford to take the audiences for granted with this kind of no-brainer. Recommendations: To Surya – Better work behind camera; To janta – Stay away from this movie.
Graded C-. +ve: Music. –ves: Plenty.