vs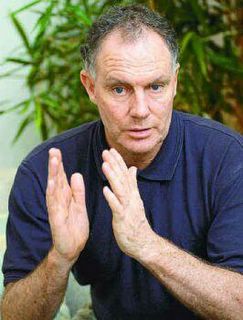 Indian cricket is undergoing through one of the worst crisis of the recent times, the worst since the match-fixing times, to be precise. Saurav Ganguly, after scoring his first international hundred in over 20 months, remarked that he was asked to step down as captain and player just before the first test, which means precisely a week before this post is going public. Though he didn't name, it is/was obvious that Greg Chappel, the coach was the one he was pointing finger at, since he is the only one who has considerable power in the team on tour. That has overshadowed the significance of the series and all the focus now is on what would happen in our team's management.
Different stories are making rounds, but what seems to be consistent is that it is Ganguly who asked Greg about his 'honest opinion' as a elder brother on the team's composition and what Ganguly's immediate future is. Greg apparently said that he would include both Yuvraj and Kaif in the team ahead of Ganguly and that Ganguly needs to work on his batting before claiming a legitimate place in the team. It was a private conversation between the two, and then Ganguly stormed out of the room, met Dravid and team manager and complained them on Greg's remarks. Worst was, on the third day, he chose to mention that in the press conference.
I am not going to discuss on the quality of his hundred. All my applauses to him for that knock, however dour it was, against arguably the weakest bowling he would have faced in his entire test career. What angers me is his mentality over the entire situation. Not withstanding the polarization of the public on whether one is pro- or anti-Ganguly, he has now extended it even in his team. What if he had got our before reaching double digit in the usual customary way of fishing outside the offstump or an ugly ducking of a legside bouncer? And what if runs dry up again?
It is no secret that he is a short-tempered person and tends to get quite emotional a lot. He has had a very good cricketing period from '96 till 2000. Those were the four-and-half years when he formed the backbone of Indian batting and deservedly awarded the captaincy. No one could question his presence in the team and his batting did all the talking. After that, time and again, his form suffered in both forms of cricket and he always faced those uncomfortable questions from the media, ex-cricketers and public. His defense was "I have had few knocks of 30-40 runs, just I need to convert one of those into a big hundred" and "I am one innings away from being my best again". Sadly, those were as unglamorous as his jumping around in the crease. Apart from the match-saving and series-defining century against Aus at Gabba in 2003, there was never any hint to deny that the best days of Ganguly are long over.
The current episode shows the arrogance of Ganguly that he truly deserves to be the captain of the team, no matter how the stats show otherwise. He gets terribly angry on whoever questions him and he has the mentality of "I don't have to answer/prove anyone anymore". The big downslide of this is that it doesn't allow him to overcome his shortcomings and score runs, because he thinks he would then be yielding to the pressure and demands of others. He should realize that he is no Mike Brearley, so doesn't deserve to be a non-performing captain. Also that, even bigger stalwarts like Sachin, Ponting and Hayden have recently been questioned and they have answered it the best way: by letting the bat to the talking.
IMO, the team is like a family and the management is like its elders, husband-and-wife, to be precise. The hubby-wife spat should never be done in front of the kids or other elders in the family, simply because it disrupts the harmony of the family. It has to be sorted out among themselves – period. Worst is the scenario when the family knows of the fight and then one of hubby/wife decides to make it all public and force the family members to take sides. Washing dirty linen in public is something we definitely didn't expect from someone as expectedly professional and responsible as our captain.
Whatever happened, all I wish/pray is that the problem gets sorted out soon and we focus on real important issues like the fitness, skills, opposition, performance and such.