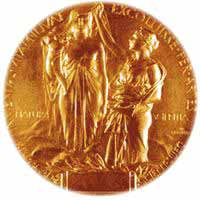 Just a minute ago, the 2005 Nobel prize winners for the year 2005 were
announced
. As I expected, one of my shortlists,
Robert Grubbs
of CalTech shares the prize with
Schrock
and Chauvin for the development of 'metathesis'. Congratulations to them!!
On my very first day at work in US, I met Robert Grubbs (Bob Grubbs as he is called), as he was visiting
our department
in University of Florida and was a guest to
our group
. It was very inspiring to get introduced to him and attend his series of lectures. I dont know about Chauvin but Grubbs and Schrock are two names that have been synonymous with 'metathesis'. I havent done any metathesis myself but my wife has.
It involves a reaction between two molecules having double bonds, in the presence of 'metathesis catalysts'. It gives rise to two new molecules having double bonds and one of them is usually a gas, such as ethylene. The gas escapes out of the reaction, thus driving the reaction to completion and in only one direction, i.e. towards the products.
It is hard to explain to non-chemists about it so I will try to walk you through the work of this year's physics winners.
For physics, the award goes to pioneers in 'optics', especially 'laser optics'.
Roy Glouber
, the founder of 'quantum optics' gets a half of the prize for his theoretical work on blending quantum mechanics and optics. Two others share the other half, for their work on 'precision spectroscopy' using lasers. Their work has helped in getting the exact speed of light, to the precision of centimeters!! Ultrafast laser techniques such as femtosecond (1 in a million billion second) spectroscopy have been immensely benefitted by their work.
PS:
Something about 'Nobel prize'. Everyone except Swedes pronounce it similar to 'noble'. I heard from one Swedish prof. that 'there is nothing noble about Nobel'. It is supposed to be pronounced differently... like how u would say 'nobale' or 'nobayl'.
Came across this
cool game
in the official site on my area of work, which is 'conducting polymers'. Will give you an idea of the exciting possibilities with these speciality plastics. Check it out.