(Pictures adopted from ayngaran.com)
Sometimes, certain movies and their music are missed by me and I get to know how good they are much later. One such movie in the recent time is 'Five Star'. I listened to its songs for the first time only in the last year sometime and since I listened to it while working, one song that I immediately liked was 'Thiru thiruda'. That tune was coming to my mind lot of times and I had forgotten where I listened that. One day, while searching for it carefully in raaga, i found it. Downloaded and started lstening it. That made me watch the movie also. Again watched the movie while at work on a weekend. Didn't like much the other 'peppy' tunes but liked the movie very much. It was neat, different and refreshing.
The main attraction in that movie to me was Kanika. She was damn good and had a terrific screen presence. A solid and meaty role and she carried it very well for a newcomer. I became a big fan of her, but poor girl didn't have many tamil movies.
Autograph-le parthappave manam paripochu.. 'Ethiree'-leyum super. Sema homely look. Brahmin ponnu role-na Kanika-vai kooppidalamnu solra alavukku appadi oru baandham. Enna, rumba jollu vidurena.. kandukkatheenga.
Indha weekend I again saw Five Star. This time I liked the movie even more. Kanikavaiyum innum pidichi pochu. அதோட இன்னும் ரெண்டு பாட்டு அப்படியே என்னை சொக்கிடுச்சு. (athooda innum reNdu paattu appadiyee ennai sokkiduchchu). I will explain all what I enjoyed. யான் பெற்ற இன்பம் பெறுக இந்த ப்லாக் உலகம்... (yaan peRRa inbam peRuka inththa blog ulakam.)
First the song "Rayile Rayile..".. What a song.. awesome lyrics. Vairamuthu is famous for all sorts of comparisions, now, in this song, he compares a train to himself.. unbelievable.. I will provide u with the most impressive of the lines:
ரயிலே ரயிலே ஒரு நிமிஷம்..
ரதியைப் பார்க்க நிற்பாயா
பார்த்தால் நீ... நீ...
என்போல் தடம் புரள்வாய்..
(rayiley rayiley oru nimisham..rathiyaip paarkka niRpaayaa paarththaal nee nee en pOl thadam puraLvaay.. )
rail derail agura oru negative matter-ai evlo karpanaiyoda solliyirukkaru.. oru penn than manathukkul erpaduththum konthalippai ippadi solraar..
விரைவு ரயிலொன்று எதிரினில் வருகையில்
உன்னோடு விபத்து
ஓ அழகுப் புயலென்று எதிரினில் இருக்கையில்
என்னோடு விபத்து
(viraivu rayilonRu ethirinil varukaiyil unnOdu vibathu
oh azhagu puyalenRu ethirinil irukkaiyil ennOdu vibathu)
Train accident enna satharanamna santhoshapadugira vishayama? Aana, UnniKrishnan indha varigalai padumbodhu enna santhosham.. azhagana vibathu.. Fast express-ai puyalukkum puyalai oru pennukkum uvamaipaduthi enna vilayattu..
ஏ ரயிலே உன் மேலே
நான் தோள் சாயும் தோழன்
எனக்கு நீ எனக்கு
ஒரு பெண் பார்த்து சொல்வாயா
(Ey rayilee un mElE naan thOL saayum thoozhan
enakku nee enakku oru peN paarththu solvaayaa)
jannal mEle thOl saithu ellarum thoonguvaanga.. adhanaale train oru friend-aam.. enna kusumbu parunga.. adhukkaga train ivarukku penn paarkkanumaam.. andha train-ledhaan avarukku pidicha pennai parthadhaale friend help panna madhiri aachu..
நீயும்தான் செல்வாய்
மலைகளின் குகையிலே
நானும்தான் செல்வேன்
இமைகளின் குகையிலே..
(neeyumthaan selvaay malaigaLin gugaiyilE
naanumthaan selvEn imaikaLin gugaiyilee..)
Idhu heights. Imaigal valaindhu irukkiradhu gugai-yoda valaivu madhiri.. imaiyoda gugai kann.. andha kann vazhiya penn manasukku poganumaam.. enna route parunga.. short cut-a long route-a?
சிவப்பு நிறமது வழியினில் தெரிந்ததும்
நிற்பாயே நீயும்
ஓ.. இவளின் இதழ் நிறம் பார்த்ததும்
என் இதயம் நிற்காத பாவம்..
(sivappu niRamathu vazhiyinil therinththadhum
niRpaayE niiyum
Oh.. ivaLin idhazh niRam paarththathum en idhayam
niRkaatha paavam.. )
salaam, vaadhyaare.. ungalai adichukka aal ille.. Train red color parthu ninna nallathu.. idhazh parthu heart ninnuttaa appuram yaaru paaduva?
BTW, this song was picturized beeeeautifully.. Prasanna and Kanika in exotic Europe..
Kanika-voda saree, pavadai-thavani, dance, Prasanna-voda smile, weird pyjama, cute dance ellam.. marakka mudiyatha paattu... innum kannukkulleye irukku..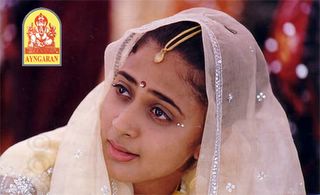 The other song is 'Engirundhu Vanthaayadaa'.. Nice blend of Tamil classical and Punjabi music. Nice dance again.. the eye-catcher being of course Kanika. Lovely voice by Sathana Bala. The lines that I enjoyed:
வானவில்லாய் ஆணும்
வண்ணம் ஏழாய் பெண்ணும்
இருந்தால் இன்னும்
வானின் அழகு கூடும்
சுட்டு விரலாய் நீயும்
கட்டை விரலாய் நானும்
எழுதும் எதுவும்
கவிதையாக மாறும்
(vaanavillAi ANum vaNNam Ezhaai peNNum irunththaal innum vaanin azhagu koodum
suttu viralaai neeyum kattai viralaai naanum ezhuthum ethuvum kavithaiyaaka maaRum)
vaanavil-le irundhu color-ai pirikka mudiyuma? Color illama vaanavil unda? Appadi irukkanum husband and wife.. Enna arumai..
Suttu viralo kattai viralo illame kavithai ezhutha mudiyuma? rendum serndhal dhaane kavithai.
ஒருவர் வாழும் உலகில்
மௌனம்தானே பேச்சு
மொழிகள் எதுக்கு
இருவர் இணையும்போது..
(oruvar vaazhum ulagil maunamthaanE pEchchu
mozhikaL ethukku iruvar iNaiyumpOthu.. )
Idhaivida arumaiyaa language no-bar pathi solla mudiyumaa...
Link:
http://www.raaga.com/channels/tamil/movie/T0000438.html