Asin and Vikram are going to
take-off
to Austria for Majaa. Wow.. this brought back my fond memories of Austria. Few years ago, I visited Bad Gastein, a hilly town on the Alpine region, for a conference. What a refreshing change it was!! FYI, this was the place where most part of "Sound of Music" was shot. There was no university in that town but the conference organizers had rightly chosen Gastein for its scenic beauty. While Switzerland is the real 'hotspot' in Europe for Indian movies, I always wondered why no one went to Austria. Such a beautiful country. Those who have Google earth, type 'Bad Gastein, Austria' and enter to see the location of the place I am talking about. (Best when viewed from above 15- 20 000 feet). BTW, it is only a few miles away from Swizland.
Little bit of travelogue: I landed in Munich airport, Germany and took a bus to Gastein. It was a wonderful drive on a cool July afternoon. That was my first trip abroad and everything FELT sooo good... Cool breeze, clean air, broad roads, scenic driveways, etc.
I was put up in a hotel and got a double bed-room. Opened the balcony curtain and wow.. icy, cloudy Alps in front of my eyes!! Damn happy.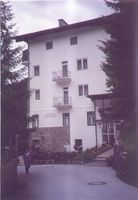 Turned my head to the other side and saw my neighbor home. Beautiful flowers.
Refreshed, wore a formal dress to attend the conference inaugural dinner. The conference center was located at such a wonderful place... there was a water fall, right next to the left wall.. !!
BTW, it was a conference on 'Synthetic Metals'. Sounds strange? Was very highly excited to see all the pioneers working in my field, whom I had seen only in fotos.
On the very first day, in one of the talks, someone from UK quoted our work which was published just 4 months ago. Oh man, I was on cloud nine.. My poster session went very well and made some good friends. It was a big success.
Was completely tied up with the tight sessions of the conference that I couldnt go for sight-seeing.. (would be a different story if I get such a chance now.. :-) ) On the last day, took a long walk on the mountain side along a clear stream. A truly unforgettable afternoon it was!! mmm.. looking forward to visiting the place all over again - but this time, not alone. :-)