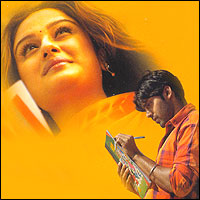 (Pic adopted from ChennaiOnline)

Another of campus tabloid to be added to the long list of recent movies. The debutant director, Nanda Periasamy had said this is a very refreshing story and 'romba vithyaasamana kadhai'. Wish it was a positive difference he had in mind.

Chandru (Jaivarma) is going to Cuddalore to meet his college classmates after five long years. Satya (Arya), their best friend who had originally suggested for such a meeting before five years is eagerly awaited. His father brings him, albeit in a state where all he is nothing, literally, but a emotionless, vegetable-like, almost brain-dead survivor. The doctor (Charuhaasan) takes him to a hypnotic state when he reveals about his love interest, Jothi (Sonia Agarwal), his collagemate. He was about to propose his one-sided love to her five years ago during the freshers' welcome but he couldn't. Doctor suggests that, in order for Satya to become normal, he has to propose to Jothi as he had planned. So, the friends try to rebuild their college of 5 years back and help Satya complete his unfulfilled wish.

Surely an interesting story, though the attempts of the friends in cleverly fooling Satya and manipulating his world resembles that of Ed Harris in 'The Truman Show'. The first half is outlined above and it has some interesting and touching moments. It is OK, but, it nosedives badly in the second half, hurting logics, sentiments and the climax is cliched. The interaction among the friends is shown in only one or two scenes. While it is plus for not going overboard, it is a minus because the overboard act of their friends for such an arduous effort in time-reversal of an entire college for a month.

Several loopholes are visibly see - how about the life outside the campus? And, what about the present students who are finishing up their year (since that one month is set before farewell time)? Even if one tends to neglect these and tries to enjoy the proceedings, the situations where Jothi realizes Satya's love on her, appear ridiculous, forced and too melodramatic. All these things bring down the second half of the movie terribly badly.

Arya looks good, handsome and has chances to emote reasonably well. But none too impressive compared with her previous movie, Ullam Ketkumae. He appears to be sleep-walking for most part. Sonia appears less interested and she better keep an eye on diet. Support cast of the friends like Jaivarma are OK. IMO, the best scenes of the movie are when the friends are together. They bring back memories of the college days. The big question that haunts is, if they are such thick friends, why the hell they had no contact whatseover among themselves so far? Not even one knew about Satya's plight, especially since 'that event' happened at the farewell day?

Yuvan's music is a huge positive, though, as usual, he fare better in melodious songs than in the college group songs. "Kaadhal enbathu" and "kanngal kalangida" are top-class and i hear them atleast 4-5 times everyday. The movie is neat, without any item number or masala stuff. If you keep your brain in the closet and watch it only with heart, you will like it.
B- grade for this movie. +ves: Arya, Yuvan. -ves: Climax, patchy screenplay.