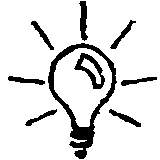 My research supervisor had once remarked that the guys who work out in gym are wasting their energy doing no work. Though it sounded as nothing at first, during subsequent visits to gym, I kept thinking about it.. and the thinking got deep when I moved to US and saw actual calories and watts of the work-out. Just think about it.. forget cardio.. but we do all the muscle exercises simply against gravity.. There is sooo much energy and power in the gyms but no output except for the people working out.
Imagine this.. you work out on a particular machine, and the weight you pull is used for actually doing some work.. It could be an emf motor to generate power, or anything.. Just that one may not see what the load of say, 50 pounds, actually is.. because that would psychologically not please the mind, so start with.. If some companies put some brain and money in designing such machines, I think it would be worth it.. So, the guys who work out actually do work and so they may not pay a fee for using the gym.. Or, even better, they might even get paid to have done a job while working out.... I am sure more people would be utilizing the gym then.. Even for some cardio exercises such as cycling and elliptical pedalling, the resitance level controlled by the user could actually be used for doing some type of job.
Does sound crazy, doesnt it? I think there is a good market out there for this..